Tempo di lettura stimato:
3
minuti
Alla luce delle contrastanti ricostruzioni operate da diversi addetti ai lavori e pubblicate su svariare testate giornalistiche nazionali o internazionali, ho voluto analizzare in dettaglio quello che è successo domenica al 48° passaggio del GP del Canada per stabilire se, quanto imputato a Sebastian Vettel, rispecchi la realtà o piuttosto il tentativo di giustificare una penalità contestata dai più.
Per farlo mi sono servito di un documento incontrovertibile, vale a dire il riassunto della gara pubblicato sul canale youtube ufficiale della F1 e consultabile da tutti visitando l'indirizzo https://www.youtube.com/watch?v=AACbmSCrXbI. Il consiglio che vi do è quello di impostare la velocità di riproduzione a 0.25, avendo l'accortezza di disattivare l'audio per evitare di udire illusorie invocazioni demoniache nelle voci di David Croft e Martin Brundle rallentate a dovere. Fatto ciò, potrete scorrere rapidamente il video portandovi al minuto 3.30, momento in cui Vettel approccia curva 3: da qui in poi inizia la manovra incriminata nella quale i commissari hanno scorto la deliberatezza del gesto.
3.31 – Vettel imposta la curva verso sinistra e già in ingresso perde il posteriore correggendo con un vistoso controsterzo.
3.32 – Persa la linea ideale la SF90 diventa instabile e punta l'esterno. Il pilota della Ferrari è costretto a 2 correzioni e, per evitare il testacoda, deve seguire la tangente verso il cordolo di curva 4, transitando poi sull'erba.
3.33 – Sul manto verde la monoposto segue una linea retta fino al tratto finale del cordolo. Vettel non guadagna metri, ma cerca disperatamente di riprendere il controllo della sua vettura.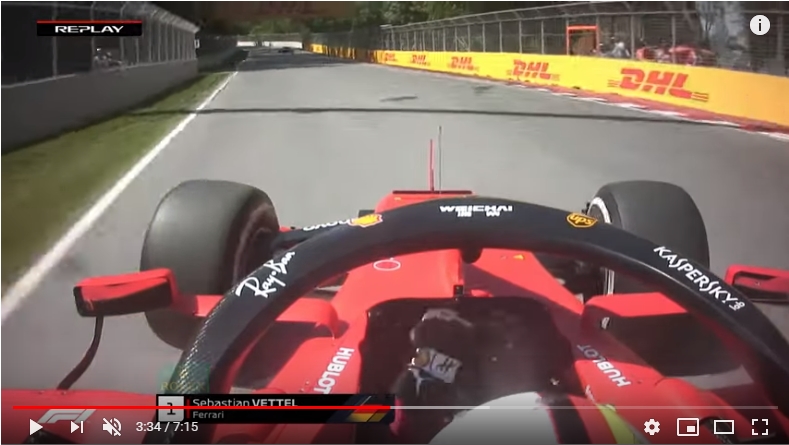 3.34 – Una volta raggiunto il cordolo, a causa della differenza di grip e del gradino rispetto al tratto d'erba, la SF90 si scompone di nuovo e il tedesco controlla la sbandata del posteriore sterzando verso destra.
3.36 – Con un livello di aderenza menomato dallo sporco depositatosi sulle gomme, la Ferrari n.5 punta verso il muro esterno. In questo preciso momento si verifica il fatto che ha portato i commissari a propendere per la sanzione: Vettel guarda lo specchietto destro per cercare di capire dove sia Hamilton. Il collegio giudicante ha ritenuto decisivo questo fatto, sostenendo che il movimento del casco indichi la consapevolezza della manovra di chiusura operata dal pilota nei confronti dell'avversario. La realtà dei fatti sarebbe però differente. Fate attenzione al momento in cui il casco di Vettel si sposta verso destra cercando lo specchietto: solo in questo frangente Seb scorge la sagoma di Hamilton e lo spazio residuo tra la SF90 e il muro, non consentirebbe il passaggio di un'altra monoposto.
L'immagine dall'alto al minuto 3.41 conferma la dinamica: per averne la certezza potete prendere come riferimento la scritta "QUITE TO THE EDGE" posta all'esterno del cordolo di curva 4 (evidenziata dalla freccia fucsia) e confrontarla con il fotogramma al minuto 3.35 per capire quanto spazio avesse Hamilton, nel momento in cui Vettel si è accorto della sua presenza.
I social media manager della F1 hanno cercato di legittimare la decisione dei commissari postando, come prova regina, lo scatto che trovate in testa a questo articolo e che mostra lo sguardo di Vettel intento a controllare il rivale tramite lo specchietto, ma ad una più attenta analisi (servendosi sempre della famigerata scritta "QUITE TO THE EDGE") non è difficile rendersi conto che quell'immagine riguarda un frangente successivo, nel quale il pilota della Mercedes si era già reso conto di non essere legittimato a tentare la manovra.
In conclusione, Vettel può essere ritenuto responsabile solo di un errore di valutazione relativo al livello di grip offerto in quel momento dal retrotreno della sua Ferrari, tutto quello che è successo da quel momento in poi è riconducibile esclusivamente al disperato tentativo di riprendere il controllo della monoposto e nulla ha a che vedere con la manovra ostruzionistica della quale è stato accusato, con buona pace degli incubi notturni di Emanuele Pirro e compagni…
picture: Facebook @Formula1
video: The Official F1® YouTube Channel